By Espark on Sat 13 Mar, 2021.
---
Ai-Mo Times
"The only literate tribe deserves the best in information and entertainment" January 17th, 2021
Today we packed together all the information gathered by our reporters: Espark, Druid, and Doom. After finishing their writing, they put the text into the hands of our editors, Espark and Dust. Once finished, they published this beautiful newspaper at ArcticFox's website.
Polytopia News:
Polaris week By Espark
January 11th marked the start of the first ever Polaris week. In addition to the usual merch discounts, a full length version of the Polaris theme and a Polaris ringtone was released.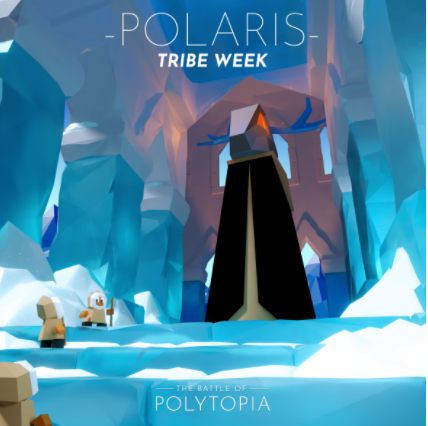 Current and former members of the Polaris tribe were pleased to finally get a spotlight on their tribe. Cade, a former tribe leader of Polaris, said, "We've been wanting a tribe week for a very long time and to be able to have one this year has been great. We are a very proud tribe and to finally let the square know it is rather nice." Gaami of the High Council said, "Polaris week is the COOLest. It is so nICE that we are able to have an entire week. I love it! Polaris is so cool, and the new song and ringtone are fun! Also, Polaris Week ends on my birthday, making it all the better!" ChexxMixx, a former tribe leader of Polaris said, "I was pushing for a Polaris day back when I was a TL and now they have a whole week! It's a great step to getting special tribes the visibility they deserve and hopefully it will bring new players in."
Others expressed concerns for the imbalance between the Polaris tribe week and other tribe celebrations. The twelve regular tribes each get a full month in the spotlight, typically with at least one server-wide contest or event. Daone asked, "How come Aqua only gets a day? It's a bit unfair."
Last year, Polaris did not get a special tribe time and Aquarion got a single day. However, since Polaris got a full week, can we expect Aquarion and Elyrion to get an entire week later this year? A mod said that "Yes, definitely there will be week-long celebration [for the other special tribes.]" An admin concurred saying, "Elyrion and Aquarion will get weeks as well, unless something changes."
Bedwars, new and improved By Espark and DoomGamerHam
After a day of maintenance, the PolyCraft bedwars minigame is back with new tribes, materials, fireballs, and more. The goal of the minigame remains the same - destroy your enemy's bed to prevent them from respawning when they are killed. Jusnip, one of the PolyCraft mods, explained, "It's similar to hypixel (it's an add on that literally tries to copy it), but you can now get new items. Starting items are different, you can get team upgrades, and there is a slightly changed money system."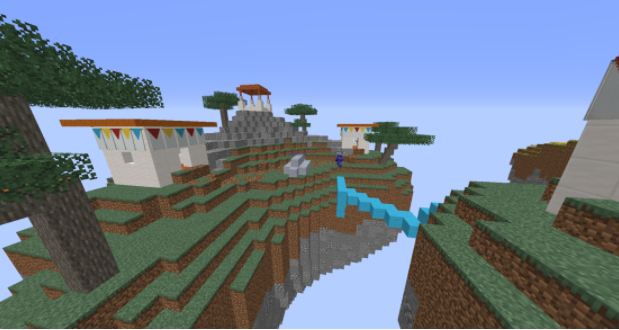 DeclearBear didn't like the new version of bedwars. He said, "New bedwars is much worse. Axes are too cheap (12 gold for the best weapon in the game!?). Fireballs do too much damage (even though I just learned you can knock them back which is nice). Obsidian is annoying. You have to unlock the gold generator. Removed shields. Less bow variety. Tools are too expensive…"
However, Doom liked the bedwars update. "It's more balanced with more generators and different types of items for those generators. You can upgrade your protection to protection 4 and sharpness to sharpness 4. It's amazing. And fireball spamming is fun."
In a recent PolyCraft voice chat, Zoythrus did mention they planned to make a new minigame, although no details or timeline was given.
Grand Bazaar Art Contest Outcome One January 16, the winners for the Grand Bazaar Art Contest were announced
1st @sophiacastle !! | mc artist pog 97 votes 2nd @Manzana07 96 votes 3rd @Ai-Miȱŋ Δraþȱŋ | Llamo Guardian 91 votes Sophia's art is below.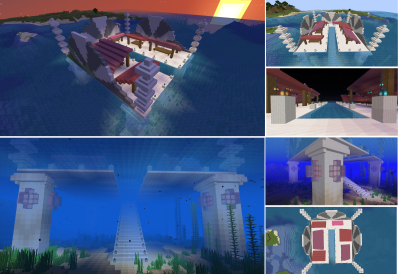 Ai-Mo News:
by Druid and Espark Although it has been a rather uneventful week for the Ai-Mo. Still, there is good news to report.
Two new champion roles were awarded to Ai-Mo members. Mantis won the Concordance Day Contest 8 days ago and JackKuni (More commonly known as dragon or Ai-Mion dragon) has won 3rd place with 91 votes. Also, Ai-Mo had three submissions for the grand bazaar art contest. Ai-Mo is proud of our talented members.
In preparation for the Ai-Mo Tribe Moon, I ask that you rile up anyone you know from Ai-Mo who you haven't seen in awhile and to prepare some free time. We are planning many things for the coming month and would love to see everyone participate in game competitions and art events. If you have any ideas on events or other ways to celebrate February and the Ai-Mo Tribe Moon, let us know.
r/Polytopia
My personal map idea: Ruin Rush which I drew a while ago. by u/MrBirdie2381
See the original post here
Mine! By Posted byu/tstudio
See the original post here
Some say the legendary 8x8 CH doesn't exist…
By u/MacaroniMozart
See the original post here
Welcome to the Gallery of the Misguided, owned by the emperor of the Gammis himself! Don't ask how he got realistic ice sculptures of his former enemies. By u/Random-Person-45
See the original post here
Who's muted this week?
Disclaimer: Many mute and ban commands are executed on admin only channels. Some fields below will show 'unavailable' because the commands were not performed in public channels. In some cases, the data can be inferred from context and will be placed in parenthesis.
| Date | Staff | Perpetrator | Punishment | Duration | Reason |
| --- | --- | --- | --- | --- | --- |
| Jan 10 | Paxu | Sandwich | tempmute | 10 minutes | you ain't want no shmoke, bloke |
| Jan 10 | Paxu | Cata | tempmute | 30 minute | Smoochums (spam) |
| Jan 10 | Paxu | Hspark | tempmute | 2 hours | lole moment (spam) |
| Jan 11 | Paxu | penis balls | tempmute | 12 hours | g (NSFW) |
| Jan 11 | ForeverBlue | Fℕ | tempmute | 15 minutes | pog (spam) |
| Jan 12 | Paxu | MatthewPyro | tempmute | 30 minutes | literally british |
| Jan 12 | Cathy | MatthewPyro | tempmute | 3 hours | wyoming: 2 |
| Jan 12 | Tama | A_R_T_E_M_I_Y229 | tempmute | 6 hours | spam |
| Jan 12 | Tama | тми | tempmute | 2 hours | Spam and also nickname |
| Jan 12 | Cathy | Bill Aquanaut | tempmute | 10 seconds | ok |
| Jan 13 | Cathy | Bill Aquanaut | tempmute | 10 seconds | డ |
| Jan 13 | OmgDan | asssv (homie simpson) | tempmute | 2 hours | n word |
| Jan 13 | Paxu | Novali | tempmute | 4 hours | lobster thermidor aux crevettes (mod ping) |
| Jan 14 | Tama | Хитрый Лис | tempmute | 24 hours | NSFW, also, get a pingable name/nickname |
| Jan 14 | Cathy | ZePrussianBot | tempmute | 2 hours | No (spam) |
| Jan 14 | Cathy | Whail | tempmute | 2 hours | No (spam) |
| Jan 14 | Cathy | Ankizle | tempmute | 2 hours | No (spam) |
| Jan 14 | Cathy | Brighton C | tempmute | 2 hours | asked nicely |
| Jan 15 | Paxu | Sandwich | tempmute | 1 hour | Kamelåså (bad word) |
| Jan 15 | Cathy | Bill Aquanaut | tempmute | 10 seconds | But they were forewarned, so we sent upon them the flood of'iram (spam) |
| Jan 15 | Cathy | halfiebailey | tempmute | 10 hours | unspecified |
| Jan 16 | Omgdan | DehydratedCame | tempmute | 2 hours | politic memes |
As always, thanks to everyone who helped make this newspaper possible. Keep up Ai-Mo!