By Espark on Sun 14 Mar, 2021.
---
Ai-Mo Times
Feb 28, 2021
Unfortunately, the Ai-Mo Times website is no longer available. Until the newspaper gets some new staff and/or ways to publish, this will be the last edition.
Polytopia News
Zoy vs Midjiwan match In addition to the M-team's visit to Polycraft, Midjiwan played a mirror match against Zoythrus on February 22nd. Midjiwan played as Cymanti and Zoy was Imperius. The game was live streamed on Steam. During the match, Zoy said, "I have a plan. Is it going to work for me? No. But it is a plan nonetheless."
Both players were criticized for their poor strategies. SPJ said, "Midjiwan is hot garbage at the game, everyone knows that since a long time back." One player said, "I was crying looking at those whales not used." Another player lamented, "t18 and Midjiwan still hasn't bought forestry?" Zoy's decision to buy navigation on turn 7, before having any ports built, was heavily criticized. SPJ said "Yeah. Zoy bought nav when he needed forestry or farming." On turn 19, CoolGuy reacted to Zoy's poor choice of tech with "Zoy just threw and bought philosophy instead of forestry " Myriad Mexx was also disappointed in the level of game play. Myriad told Zoy, "That was terrible. Zoy, that only worked out well because midjiwan is also horrible." King Krab said, "Midjiwan held back cause he didn't want our brains to melt… Zoy and Midjiwan [both] have mind melting moves, so they held back." When asked if he had fun playing the game, Zoy replied, "I did have some fun making all the un-meta moves I could. … In seriousness, I had fun because it was a non-stressful game." Zoy also said he recorded his side of the match, but has not said if he has plans to post the recording.
5th Anniversary PolyCraft event To help celebrate the 5th anniversary of the game, PolyCraft hosted the Midjiwan team in some fun and games. In addition to Zoythrus, Midiwan, Midjitoo, Midjifawr, and Midjify were simultaneously in the main discord server voice chat and the PolyCraft server. At one point, there were at least 50 people in the 5th anniversary VC and over 90 players were in the PolyCraft server on Feb 24th.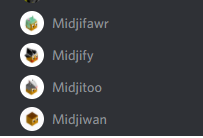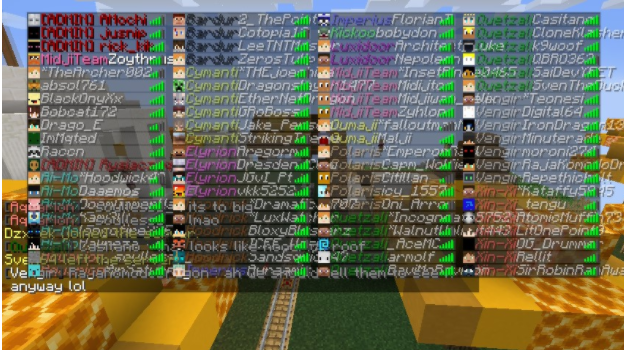 To ease lag, the mods put everyone into spectator mode while the M-team was in the PolyCraf server. Other than Zoythrus, the game developers did not have much experience with Minecraft and many of them struggled with basic gameplay. In the developer build event, Midjiwan dug a hole which Zoy then called it "the void tribe." Luckily, Jusnip, one of the PolyCraft mods, was on hand to assist the M-team during their time in Polycraft.
Midjiwan - "How do you open doors in this game" Jusnip - "Did someone give you slowness?" Midjiwan - "I don't know how does that taste"
Although Oumaji and Cymanti originally tied for first place in the build contest, Oumaji's build was later disqualified for going outside the 32x32 boundaries. Cymanti builders - Jake_Parsons and Striking Twelve.
Obsolete Restart Rules
For months, players have complained about the obsolete ranked game restart rules in the main server. Many competitive players have argued that the restart rules in main should be the same as in the PolyChampions server. In December, one Plague team member said "Having the same rules on both servers would kinda simplify things." Also in December, Pianoman said, "I think we need to research the moonrise spawn algorithm more. In 1v1s two city islands should be restartable. And kickoo whale exception is a dumb rule." On January 8th, HelloIAmBush wrote, "The only rule for restart should be the one that is on PolyChamps since there really aren't island spawns anymore (you're always guaranteed to spawn with specific amounts of villages at least on your land). One restart given to each side that can be used till the end of t4. It lets you restart in case your spawn lacks resources, which isn't common." The complaints about the old restart rules continued into February when Attila wrote, "Why ain't there bonus restarts for ranked games? … The "1 city island is restartable" seems obsolete."
While acknowledging the problem, staff have still not updated the restart rules. Since July 2020, main server admins have talked about updating the ranked game restart rules. One server manager said in July, "Well, with the Steam edition coming out (and mobile soon afterwards), the current restart rules will be deemed obsolete."
In December, shortly after Moonrise was released, an admin said, "[The restart rules are] being worked on. Most of the mod team doesn't seem to really acknowledge it as much as it should be (just Zoy when he can, requesting us to do it... and like... me, who's busy), but an updated draft to send to Nelluk is being made."
However, the bot master was not involved in the restart rules. On December 4th, the bot master said, "I am very open to suggestions on new rules/guidelines for Main now that we're in Moonrise. I don't play enough to form my own ideas for them."
In fact, the obsolete restart rules appear to be due to the lack of staff who play Polytopia competitively. Of the current staff members, only two play ranked games or on PolyChamps teams. However, neither of those mods are very active in main. Some of the staff freely admit that most of them don't play the game enough to work on the restart rules. Two weeks ago, when asked about the status of the restart rules a mod said, "I'm probably not the most qualified for that tbh." Shortly after, an admin also said they don't, with the comment, "I don't take part in polytopia play."
Then, last week, when a competitive player mentioned the issue saying, "Restart rules are super outdated I think," a server manager responded with, "I know we discussed them, but may have forgotten to actually update them." Perhaps the staff should consider asking some of the Elo-helpers for guidance on the restart rules so they might finally get updated.
FolkLore Art Contest Winners
With 187 votes (and the last person to submit)THomez won first place in the folklore contest with six images of his fan made tribe.

88 votes and second place went to @Satora Blackstor with a new architecture style - Towerism, walls and houses stacked on top of each other.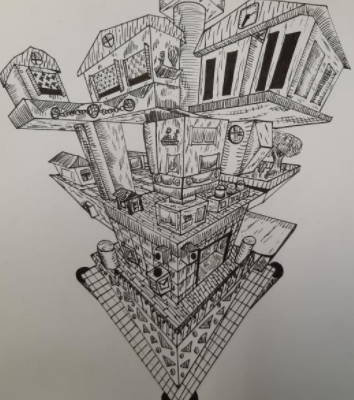 @Giorno Giovanna took 3rd place with 78 votes and sketch of Cýmä, the first Cymanti.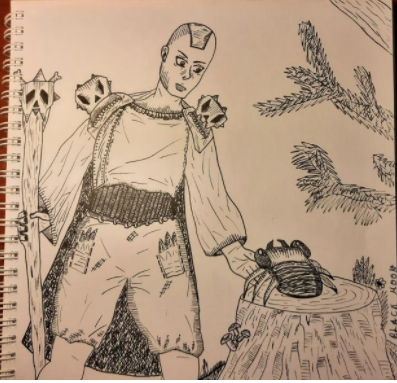 Although THomez received his champion role on Feb 19th, three hours after the contest voting closed, a post announcing the winners was not made until Feb 22nd. Several members wondered about the delay in the winners announcement. After a mod said, "I believe [the announcement] was supposed to go out a day or two ago," Sophiacastle responded with "Chaos. I've seen a few mods now go like, 'Oh where is that idk i will ask."
Ai-Miȱŋ Δraþȱŋ was particularly frustrated with the ambivalence about posting the art contest winners. He tried multiple times to get the staff to take responsibility for announcing the winners, asking four different staff what was going on. He wrote, "First 2 pings were Tama, 3rd was Kahuna, 4th was FDM, 5th was Hoodwick. Tama just shrugged it off both times. Both Kahuna and [Front DoorMatt] said they would look into it, but it took Hoodwick to actually get an announcement."
Ai-Mo News
The Altar of Llamo competition has ended and voting has begun. React with on any piece you think deserves it. Voting will close on Wednesday Have fun and may the best artist win!
Unfortunately, ArticFox has left discord and closed down the newspaper website. Also, Espark will be taking a break from the Polytopia community. If there are people who are interested in helping with the newspaper, please let Druid or Dust know.
Mute/ban column
Feb 15-28 (two weeks)
Disclaimer: Many mute and ban commands are executed on admin only channels. Some fields below will show 'unavailable' because the commands were not performed in public channels. In some cases, the data can be inferred from context and will be placed in parenthesis.
| Date | Staff | Perpetrator | Punishment | Duration | Reason |
| --- | --- | --- | --- | --- | --- |
| Feb 24 | Cathy | d0n | tempmute | 4 hours | absolutely not |
| Feb 25 | Tama | Leleco | tempmute | 4 hours | spamming international channels |
| Feb 25 | Paxu | HolyKhamelk | tempmute | 5 seconds | Unspecified * |
| Feb 25 | Paxu | HeyItzMeJake | tempmute | 12 hours | bark bark woof (NSFW) |
| Feb 15 | Cathy | Chex | tempmute | 356 days | Unspecified (and immediately rescinded) |
| Feb 16 | Paxu | Hspark | tempmute | 4 hours | go to bed |
| Feb 19 | Tama | Cata | tempmute | 1 week | using bot command in general |
| # 5 year quiz | | | | | |
| How much do you know about the history of Polytopia? Take the quiz. | | | | | |
Special thanks to Mcompany for fact checking.
https://quizizz.com/join/quiz/6039835f720c94001b59a69a/start
As always, thanks to everyone who helped make this newspaper possible. Keep up Ai-Mo!