By Espark on Sun 13 Jun, 2021.
---
Ai-Mo Times
June 13th, 2021
"The only literate tribe deserves the best in information and entertainment."
Polytopia News:
Gender reaction roles
Not long after Ai-moya gave members the opportunity for gender reaction roles, some Ai-Mo members asked for the same option in PolyMain.
Then on June 7th, an admin made this announcement in PolyMain, "We pride ourselves on being a friendly, welcoming environment for people of all kinds, and to help with our goal of being inclusive, we've added the power for you to add your preferred pronouns! Simply head to #welcome and react to the message there if you'd like to opt into this."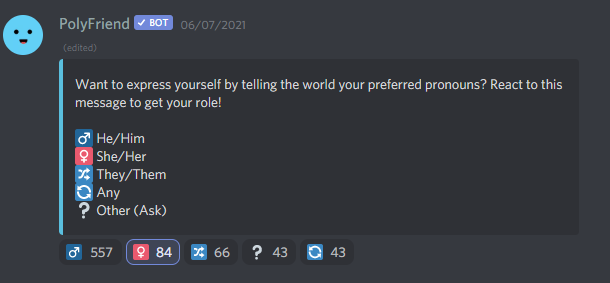 Shortly after, PolyChampions followed suit.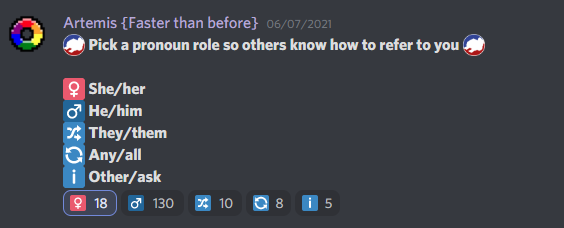 About the new roles, Cody said, "My thoughts are, a lot of folks simply want more roles, for the funny and meme. No one has really been upset or annoyed by these or at least so I've seen at least. It's kinda just there if you want them. No harm no foul"
Myriad Mexx said, "I like roles. I honestly don't really care about them tbh. Checking someone's discord profile to see their pronouns isn't something I do anyway."
Cooked rabbit said, "I like the roles because they offer expression, and you don't have to use them"
From the staff, one mod said, "[Those roles are] pretty much the standard on servers this size," while an admin said, "Wtf happened to my gender?"
Twitter bot raid
On Monday, Espark reported to a mod a wave of bots appearing in #new-members. The bots continued; over hundred joined. At one point on Tuesday, over 40 of these twitter bots joined in a single hour. Reports from users including Myriad Mexx and Ankizle stated that the same Honde twitter bot was raiding many other discord servers, not just PolyMain. By Wednesday, the raid was done.

Read Cody's dramatization of the bot siege in the fanfic section below.
Return of #Advanced Strategy
On June 7th, #Advanced Strategy was reopened. The channel is restricted to players with Elo roles of Elo-Veterans or higher and designed to be a place for more serious and quality game discussion. It had been over six months since the high level strategy channel was archived as part of the server reorganization in January.
When asked why the channel was brought back, an admin said, "We decided to bring it back a couple weeks ago, if I am honest, or maybe it was a week ago, closer to that. We felt that #strategic-advice was lacking in the uh.... quality department, but still wanted an open strategic channel. So we decided to undo the "merge" of the channels, at risk of bringing back the toxic tryhards who just think they're better than everyone else., but we will handle that if it happens."
One mod explained the return of #Advanced Strategy this way, "It is mainly to attract good players that felt left out when we removed it, since activity was going down."
When asked in VC on June 9th, Zoythrus said they brought #Advanced Strategy back because people had been asking for it. The mods had planned to bring it back for a while, but hadn't gotten around to it until now.
Zoythrus in VC
On June 9th Zoythrus spent about two hours answering questions in a live stream. At one point, at least 17 people were in the VC listening. Here are some of the highlights from the voice chat session:
Lore
Vengir is based off of evil fantasy tribes (Ex: Mordor)
Polytopians know that Midjiwan exists and some met even met him, lol
Quetzali hacked Midjiwan's computer and put themselves into the game
Polytopians are 4 inches tall
Polytopians live up to 50 (most die earlier from combat)
Imperius is the only tribe with a canonical flag
A turn is about 20-30 days
Polytopians are very smart and can reverse engineer very well. However Polytopians are also very culturally dull (they don't find a reason to advance their technologies)
A Gaami is about 1 foot tall
Polytopians don't have legs or arms. Polytopians do not have toes, but they do wear shoes.
Stars as a resource aren't real, they represent other resources (food, metal, wood)
Stars as celestial bodies exist in the polytopia universe Polytopians can marry and can get sick, though marriage depends on the tribe's culture
Aquarian gills aren't real gills, they're helmets; Aquarians can breathe underwater regardless
The Ciru Bug can only communicate with the Polytopian it's on
There's a giant force field preventing Polytopians from falling off of the world
Polytopians are carbon-based lifeforms
Every tribe thinks that they're the real descendants of the ancients and that every other tribe is just pretending
Gameplay
Vengir won't be a special tribe big surprise and big sad
There are no plans on differentiating the regular tribes (no new unique things for regulars)
Air units are exclusive to special tribe
Traps, bombs, and invisible units won't be added
"How is the naval rework going? It's going"
Naval rework, balance passes, and diplomacy are all intertwined
Glory may soon have more point thresholds
Cymanti adjustment nerfs are planned to make them more different
"You're going to like Diplomacy, whether you like it or not"
Zoythrus
Zoy likes giraffes, lol
Zoy's favorite tribe is Quetzali
Zoy is 29 years old
Midjiwan's real name is Felix af Ekenstam. (It's in the credits)
Boost of boosts
Largely due to a 3 month nitro giveaway from Epic Games, PolyMain, and other servers, have gotten an injection of nitro boosts. The offer was limited to users who had not purchased or used nitro before. PolyMain now has a server banner, more emoji slots, and other perks. The free nitro promotion started on June 10, 2021 at 11am EDT and will end on June 24, 2021 at 11am EDT.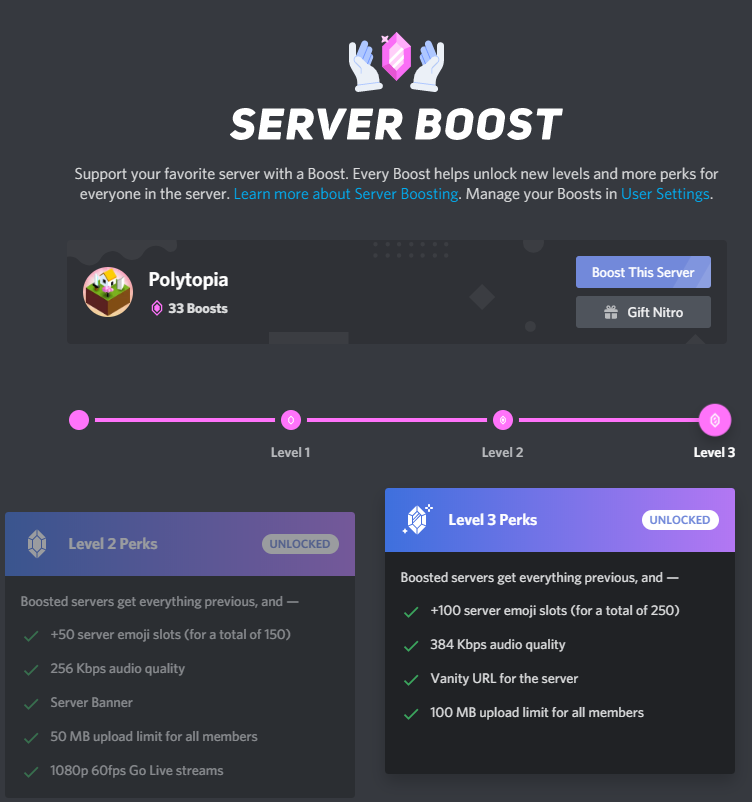 Ai-Mo News:
In Ai-Mo polycraft news, player Kami3lV has opened a zoo inside the game. Currently it isn't that big and only has four animals, including a llamo. We would love to get some exotic birds and even a panda. The zoo is open and can be found next to the road from spawn to Ai-mo. Currently, the zoo is still looking for staff. To apply, please DM Kami3lV#8008 to put yourself up as a candidate. Please be careful visiting during night hours. The zoo has to deal with hostile mobs with the lack of lighting. They already lost both our pigs due to this fact.
FanFic
By Cody Quissberry looked up at the dark gloomy sky over the land of #new-members, waiting for the dust to settle. Wave after wave of relentless twitter bots calling themselves variations of Honde swarmed the land of #new members. Hope was beginning to diminish. Jusnip was peering over the trench, watching any swarm while Quissberry got ready for the next onslaught. Grabbing his rifle and ban hammer he sat up matching Jusnip, both watching over the trench.
The sun finally arose cutting a swath through the sky and fog. The sound of a whistle was heard on the other side. A roar came as another wave of bots came forth, weapons in hands charging towards the tw. Quissberry aimed his rifle, squinted at his target, and took aim Jusnip followed.
The bullet fire echoed, both in the field and in the two soldier's heads. The ringing was the worst. Quissberry felt the sound piercing his ears into his skull, over and over giving him headaches like none could imagine. At last, the final bot collapsed becoming one with the dirt. Junsip and Quissberry took a sigh of relief before rushing to get prepared for the next wave.
Then, Anki, Espark, and T-shadow arrived at the trench, weapons in their hands getting ready for the next wave. With determination in their eyes, the crew stared down the pits of war and the black war-torn landscape. Another whistling sound shot overhead as another thunderous war cry came. This time there were more bot, coming faster and faster now. Sometimes two in less than a blink of an eye.
A look of doubt arrived on Anki's face as the sheer number of bots.
"Hold fast troops!" shouted Jusnip, taking aim and firing. Another ban.
The rest joined in moved by the speech and filled with inspiration. Hundreds of rounds were fired but it mattered not, for there were simply no ends to the bot numbers. The enemy had breached the trenches flooding in, but with the might of Quisenberry's ban hammer, the mod rose up, determined to keep the lines secured.
Then, Jusnip had to leave. He was out of ammunition. All seemed lost. Would the server be overrun with these incessant, inhuman twitter ads? The invaders kept coming. The troops considered retreat.
Once again, a whistle was heard, but this time on our side, Tama and the heavy division platoon had arrived. With backup and heavy artillery, Quissberry, Espark, and Anki cheered as hard as they could. Pure joy and hope had arrived as Tama and the platoon pushed them far back.
Quissberry rallied the trenched troops and gave the charging order, together they ran, ran as fast as they could to the other side, the bots were not prepared for a wave of their own, and together they took the bot trench fully securing the land of #new-members. The sun was fully out now shining and removing the thick fog gleaming on our heroes giving an unfathomable amount of hope. The troops smiled and looked towards the next line of the enemy, warships and another mass amount of bots were seen on the horizon, however, the troops readied their weapons once more, ready for the next stand. Knowing this would not be the last fight, far from it, but they would never surrender, not now….not ever.
Mute ban column
Disclaimer: Many mute and ban commands are executed on admin only channels. Some fields below will show 'unavailable' because the commands were not performed in public channels. In some cases, the data can be inferred from context and will be placed in parenthesis.
| Date | Staff | Perpetrator | Punishment | Duration | Reason |
| --- | --- | --- | --- | --- | --- |
| June 5 | Meep | over 9000 hours | mute | 48 hours | Unspecified |
| June 5 | ??? | over 9000 hours | ban | | Harassing DMs |
| June 6 | Hoodwick | Panzerkäse | tempmute | 24 hours | n word |
| June 7 | ForeverBlue | Whocifer | mute | unspecified | unspecified |
Credits
Thanks to all our contributors - Espark, Dust, Druid, Cody, and Tntmasta. A big thanks to Artemis for setting up the website for the newspaper. Also, thanks to our faithful readers for encouraging the paper to continue.
If you want to submit a piece to the newspaper -- art, news article, opinion piece, puzzle, etc -- let us know in #article-suggestions.
Keep up Ai-Mo!