By Espark on Sun 04 Jul, 2021.
---
Ai-Mo Times
July 4th, 2021
"The only literate tribe deserves the best in information and entertainment."
Polytopia News:
Zebasi Tribe Moon
"Zebasi architecture may seem simple, but is a perfect fit for the hot savanna climate. Inspired by the impressive mounds of Bolaza bugs, the ventilation in Zebasi structures was originally designed to keep the Royal Waongii Juice Storage cold for weeks, but now everyone can live in a naturally air-conditioned home!"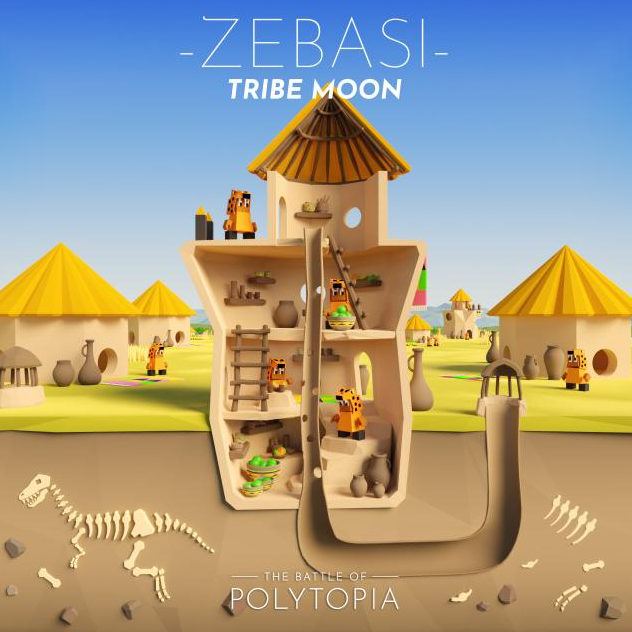 This is the time of the year that many of us have been waiting for. According to the Polytopian Calendar, this month is officially the Zebasi Tribe moon! As with any other tribe celebration, there is going to be another art contest at the start of July. However, it is not just any regular art contest. This month, there is going to be a "home activity submission." The goal of this challenge is to design a Polytopian's living space and Polytopian(s) performing some kind of activity related to them in it (example: Imperius preparing a fruit salad in their kitchen). The deadline of this event is on July 15th.
Polympics
The summer Polympics is a multi-event Polytopia tournament inspired by the Olympics, organized by fans and officially sponsored by Midjiwan. Registration for the Polympics server has been open since June 28th. Over 500 members representing 58 different countries have signed up for the event through the website and the discord server. Players are expected to compete in at least one of the following events:
1v1 might
2v2 team marathon
FFA relay
1v1 bullet
(1+1 coop) Monument rush
1v1 glory/ Wicked Bender
Art contest
Skyscraper
Perfect 10
Apocalypse (1v3)
Several teams including the USA, Canada, and Germany will have to be subdivided into smaller teams. You can still sign up for the Polympics online until July 12th.
PolyMain Server Activity Continues to Decline
Server activity has been falling since its peak in Summer 2019. The changes to the server structure in January 2021 (removing the TL roles, adding artist and streamer roles, and making new channels for art and streaming chat) did not seem to improve server activity. The release of a new tribe in February and the Tiny Tourney Two event in May did temporarily raise activity levels, but not over the long term.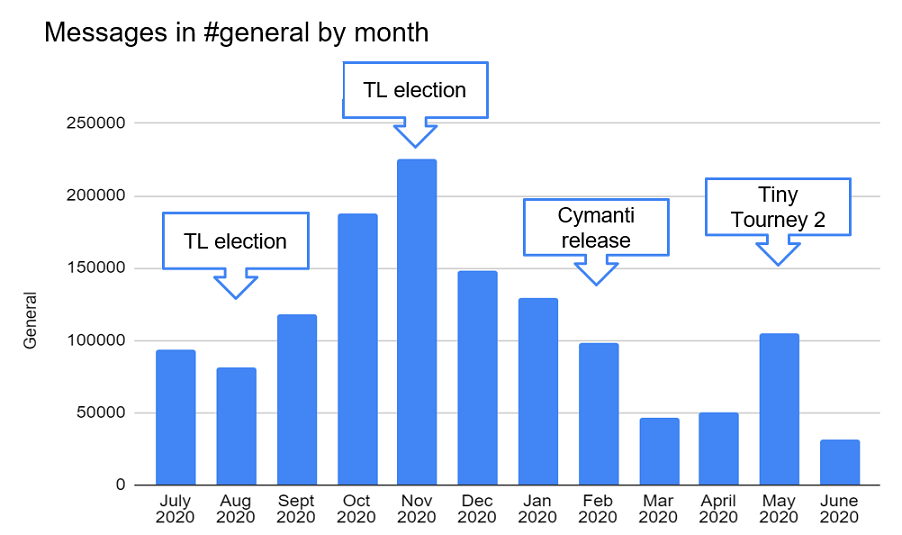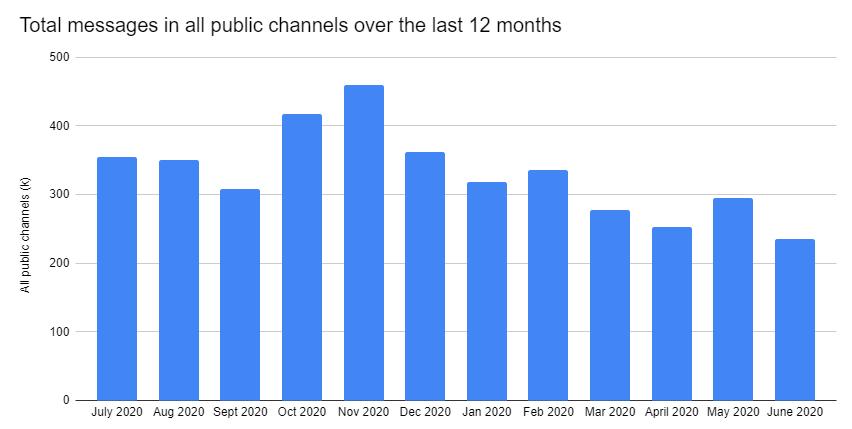 When asked for opinions, many server members were disappointed in the activity trends. Kami said, "I think it's a shame this server is dying."
Goochie, a former admin, said, "I haven't really been active since summer so idk. I remember 2 years ago when it was so active you couldn't keep up with convos. The screen literally moved too fast. Tbh I can't tell the difference between now and 6 months ago."
Eis, one of the admins on the Polytopia wiki said, "I miss summer 2019."
Robin Hoodrick said, "Tribe stuff in #general hit rock bottom when tribe leaders were removed. It killed a lot of the tribe servers as well."
Declines in mod activity has reflected the overall downward activity trends in the server. Except for Paxu, all mod activity significantly dropped or stayed the same over the last three months.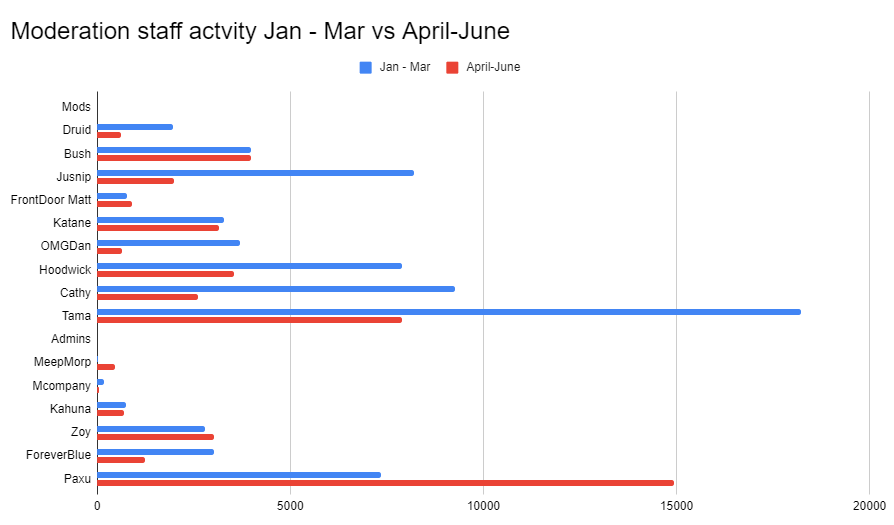 Alfrik, a server admin, said, "I have probably lost sleep trying to get over this issue. I love this community, my internet family. And I have nothing to blame for the issues but our own inaction after removing TLs. Suddenly, everyone was committed to this new idea and reform, but after it was introduced, very few of us actually participated in moving forward. Everything fell behind, and those left did what we could. We've pulled back from it, somewhat. But it is too late now to expect us to fulfill all our promises in January. We will do what we can, I don't think anyone has given up. I'm just as disappointed as anyone else with what happened, maybe more given how much time I've lost to this server and how dedicated I was to the original idea. By now it's too late to bring TLs back or we would sandwich ourselves between 2 systems and 2 groups of people, and the tug of war would just make things messy I think.

Hoodwick, a long-time mod on PolyMain, said, "I think the server was pretty epic for the last half of 2020. The third TL elections brought a good close to the year, albeit some people were still upset. Hoodrick server was doing very well in those times, I did the behind the scenes reworks and the TLs encouraged a lot of activity and made some pretty neat events. After January, things were kind of eh for me. I liked Hoodrick a lot (still do) and after TLs got removed the tribe went inactive and a lot of our most active members joined other tribes. So I kind of lost some enthusiasm for the server and joined smaller pockets within the community. That's pretty much where all my activity went…
Again, I can't speak for anyone else considering my activity here [has] shrunk by a factor of 3 since January, but I've been slowly trying to come back to the server and do things to help out. Server as a whole probably didn't change much without me, but we'll see how things go. Also this isn't like an official mod team response or anything, this is just what I've seen."
It is likely future game updates, such as the anticipated Diplomacy tech, and server wide events, like Tribe Duels, may perk server activity up. However, without major changes to the game, how the app is promoted, or the structure of PolyMain server, it is likely activity levels will continue to decline.
Ai-Mo News:
The Ai-Mo panel of celebrity judges (PiKappa, Panda, MeepMorp, Cytosine, and Mantis) voted Espark the winner of the Ai-moya PolyPride art contest, with Franco and Jack very close behind. Espark, not wanting to take all the prizes since she's an admin, awarded both to vera903 and Ai-Miȱŋ Δraþȱŋ who tied for second place.
Although PolyPride month is now over, please keep the spirit of Pride—tolerance, self-confidence, and colorful joy—alive all year long. Thanks to all the celebrity Pride Judges, to the artists who made fantastic Pride art, and everyone for making Ai-Moya amazing this past month.
Fanart: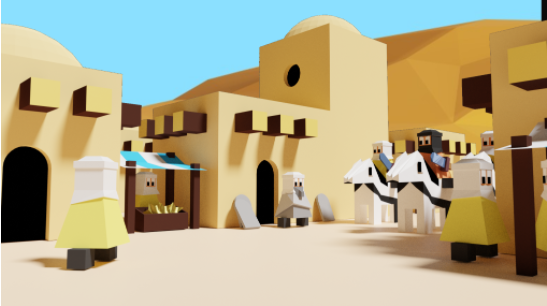 By PunkKnight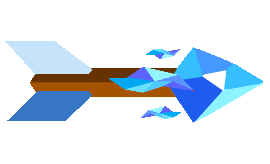 By THomez
Tribe Personality quiz
Take a minute to answer ten questions to find out what tribe you really belong in.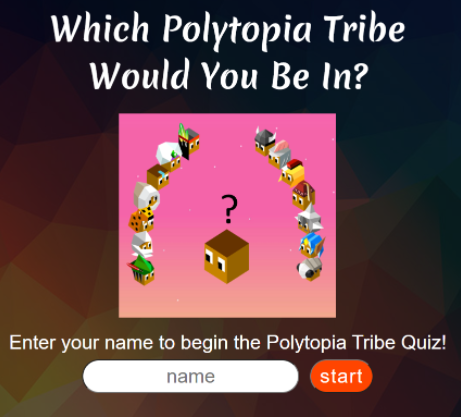 This quiz features writing and art from ten different fans: Hardizzel (Ai-mo, Luxidoor, Yadakk); Bardur Giant (Polaris, Bardur); Ankizle (Queztali, Xin-xi); Mokia (Elyrion; Oumaji); Landho (Cymanti); Outcast (Hoodrick); ElementalSpade (Kickoo); Beauxtron (Vengir, Imperius); Aetholis(Aquarion); viera (Zebasi); Espark (writing); Luna (development and design)
Let us know which tribe you got (and if you found any mistakes with the quiz) in #newspaper discussion on Ai-Moya.
Mute ban column
Disclaimer: Many mute and ban commands are executed in admin only channels. Some fields below will show "unavailable" if the commands were not performed in public channels. In some cases, the data can be inferred from context and will be enclosed in parentheses.
| Date | Staff | Perpetrator | Punishment | Duration | Reason |
| --- | --- | --- | --- | --- | --- |
| June 28 | Bush | Le Honk | tempmute | 8 hours | what the fuck (nsfw) |
Credits
Thanks to all our contributors: Espark, Dust, Druid, Noru, Tintin, and Tntmasta. A big thanks to Artemis for setting up the website for the newspaper. Also, thank you to our faithful readers for encouraging the paper to continue.
If you want to submit a piece to the newspaper—art, news article, opinion piece, puzzle, etc.—let us know in #article-suggestions.
Keep up, Ai-Mo!