By Espark on Sat 15 Apr, 2023.
---
Ai-Mo Times
April 16th, 2023
"The only literate tribe deserves the best in information and entertainment."
New Tribe Skins
By Espark
Skin Pack 2 was released for all platforms on March 29th, 2023. The Xin-xi got a ninja looking skin called Sha-po, Imperius got a scholarly look called Lirepacci, and Luxidoor has a masked version called Aumux.
The community manager said that, "Tribes will most likely get a second skin after all the tribes have gotten their first."
Robin Hoodrick said, "I personally don't like aumux because it's so much gold and little of other colors to break it up the lirepacci and sha-po though are great unique skins that I use and much better than the last skin pack."
Nxva said, "I bought all the skins even though I had previously not wanted any of them. They are more unique and creative than the first three…. The Luxidoor one has very cool changes to the terrain, despite the glowing dust seeming a bit out of place and just kind of put on top of Vengir terrain. Besides that all the troops look great. Xin-xi's is very fitting and just adds a nice variety pick, plus Xin-xi's cities look very good in black. The Imperius, they have new animals and fruit both which I think look great. I particularly like the animal despite it possibly not quite fitting with the tribe. It just adds to the unique changes you get by using the skin. Of the three the Imperius skin is my favorite... I think that them beating their enemies to death with scrolls is cool."
Person said, "I love the story behind the Aumux. Well, it fits well with Luxidoor, shows a powerful impact on their environment, and spells out why they are expanding and conquering other tribes. "Destroying the world with their greed" is also strikingly similar to some things we are seeing IRL, with big oil companies causing and then capitalizing on climate change"
Benford Abrahams said: Lirepacci: "They might take our freedom, but they will never take our wines." Sha-Po: "Hidden in plain sight, lies the secret might." Aumux: "We do not sell agendas for gold. We sell power for gold."
Not everyone liked the new tribe skins. One fan, D00MSL4YER said in a game suggestion post, "I don't understand why they have quivers when they have shurikens. Also, could we have unique names for some units belonging to tribes with skins? I figure that there would be a better name than Archer for this Sha-po unit. Maybe Assassin?"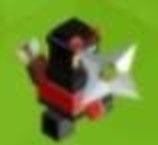 Watch the trailer for the new skins on YouTube.
End of Server Hosted Events
By Espark
After months and months, the last two officially hosted events of the server have ended, the Diplo Derby and the 40k Frenzy.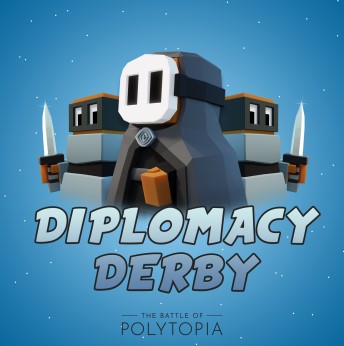 Over eight months after it began, the Diplo Derby tournament finished its final round. What started with 445 competitors in July 2022, ended seven rounds later in March 28, 2023. Phew. What an amazing accomplishment. First place wen to Maax, second place to Fanny, third place to Elevatia, and fourth place went to Adocuss.
The winner, Maax, said as the finals came to a close, "After over half a year, it's finally over. Y'all were all great opponents, and huge thanks to VikingTheCat and Fanny for sticking together with me as a team till the end, definitely could not have made it here without them. GG!"
Eleatia, the third place winner said, "With eternal gratitude towards atlas, I'll take 3rd gg wp. Best of luck in the 1v1 for victory. It was fun journey and I'm glad to have faced you all in the end."
The fourth place winner, Adocuss, said of the event, "Betrayal strategies are a losing strategy up until the final round. Notably because there is no benefit to being 3rd or 1st for all the games prior. If it were points based or something, then there could be shenanigans to try and betray to get first place each game, but as it stands if you are on the winning side, it's a bad move to betray"
You can watch the replay of the Diplo Derby finals here - https://share.polytopia.io/g/63907ab6-3de1-4b32-8271-08db1a398ad1
The other event to finish was the 40k Frenzy. The contest started in October 2022 as a way to celebrate the server reaching 40,000 members. Although the contest was popular to start, the number of new entries dropped as the months passed. Finally, after 5 months, on April 6, 2023, 40k Frenzy hit its target. Justeeni Lingueeni was declared the winner with a total of 2394 SPT and 15 lucky participants won Steam keys in the raffle.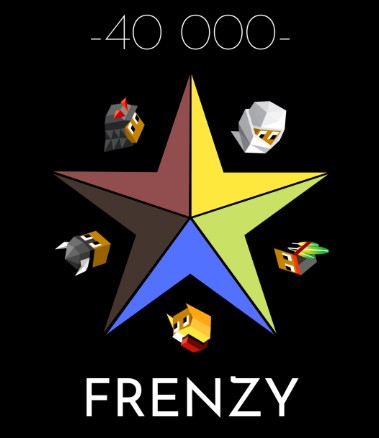 Steam key winners for 40K: 1) Unwavering Shadow 2) Kitties Lover 3) Protector04 4) DrexalOne 5) ◇♧Artis♡◇ 6) MakAttack 7) ickydime 8) Digital 60 9) js261 10) lôni enthusiast 11) Villajah 12) Pillager 02 13) Adocuss 14) Reaper03452I 15) That one theater kid
At the close of the events, Espark, one of the directors said, "This Diplo Derby will probably be the last competitive event we host on this server. Zoythrus said that going forward, all official Polytopia game events will be hosted through Challenger Mode. We can still host events on other servers, like PolyChamps, but DipoDerby may be the last one here. Makes me a little sad."
April Fools summary
By Artis
On the 1st of april, the beloved April Fools Day pranks began. The staff team was well prepared, starting their plans as early as July the year before.
First they made it look like the bots had taken over the server.

They added a cherry on top by making a fake "AI art contest". The contest was about people using AI art generating programs and then submitting it on the submission channel. The art had to be polytopia related.
Second, all of the channels have been renamed which I personally loved. As an example, the #new-members channel was called "Fresh meat" #polycraft-chat was renamed "nerf-declarebear-already," #artist-showcase was called "melcante-time," and #mod-applications was renamed to "1984-guardian-applications." Also, a cool down was placed on #general, forcing users to go to other channels to chat..
The third and last thing they did was release a fake mod channel called "mod-pokedex." It contained messages going back over 8 months! The fake mod chat included threads with users' IP addresses, fanfic, and ban quotas. You can download an archived version of the fake mod chat and read it all yourself.
Server members generally enjoyed the April Fools pranks.
Mozzarella said, "I enjoyed it myself. I think that may have been because seeing that was what reminded me of it being April fools day upon waking up."
Rspark, a former mod, was unimpressed. "Meh, it was pretty on par for what they did in the past"
Aramis said, "I love how the mod chat basically became general because of the cooldown in the actual "general""
Blockies said, "I loved learning about their ban quota and how zoy's a robot."
Personally, I think they tricked the server very well and even if people weren't tricked, they were surprised and had fun with it. I'd also like to add that I thought the AI art contest was legit and I started making AI art hoping to win 0-0. I had fun reading all the funny channel names the mod team came up with and looked up for their creativity. I was very confused at first when I saw the fake mod chat. I was like.. shush we will now see the secrets the mods are hiding from us... It was very confusing at first but then I saw the name and remembered, "Ahh right! April fools!"
Is Polycraft in a Dark Age?
By Robin Hoodrick
Polycraft is something I am sure most people in this community are familiar with. It is the official polytopia Minecraft server on Java and bedrock editions of Minecraft; owned by Zoythrus and endorsed by Midjiwan himself. Recently for players, it has seemed like it is in a dark inactive age, or is it? Polycraft began in late 2020 and has successfully thrived to what is now the modern day. The server has always had an active caring community, but currently, for some, it felt like that has been dwindling recently.
A low number of players is common for Polycraft today, what used to be low numbers give or take 4 or 5 online players is now the server's peak. There can be and is long stretches now where you will find yourself being the only person online. No afk players no new players just emptiness. Many factors could be blamed for this phenomenon, one is finals being around this time, or maybe COVID just inflated the numbers and this is the new normal, or maybe lack of new things to do on it like events or updates to the server. Regardless, the server is absolutely not in its best state right now. Recently there was a war that took place between the Quetzali, Xin-Xi, Hoodrick, and Cymanti alliances (QuXiHoC). Along with the Vengir, Aquarion, Polaris, Elyrion, and Zebasi alliance (VAPEZ). This did bring back some activity for a week but it quickly came and went with no real lasting impact. There have been talks of a possible server reset but admins quickly shut that down but noted that if the server was to become completely dead it will be considered a possibility if that was to ever happen. For now, the server is stuck in a weird place where it is not completely dead and there still are a handful of committed players and new players coming in, but numbers and activity are definitely at a low point for this server's history.
Interview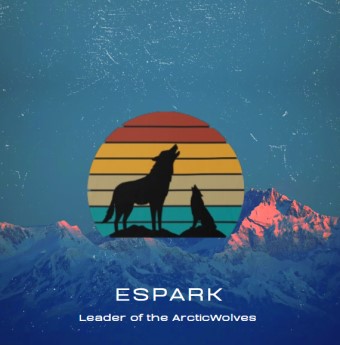 Excerpt of the April 12th interview with Espark by Obfuscation. The complete interview was originally published in the PolyChampions server. You can read the full interview there.
Obfuscation: Tell us all a little about yourself? What's your age (can be a range)? Where do you live (can be a general area)?
Espark: I am a gamer girl, an endurance athlete, a singer, a writer, a mental health professional, a medical researcher, a wife, a mother to three children, a sister, and a daughter. I am in my late 40's and live in Los Angeles, California. In the Polytopia world, I have worn many hats. In PolyChampions, I am leader of the ArcticWovles and former leader of the Bombers. I have helped run dozens of tournaments including the 2020 Summer Skirmish, 2021 Polympics, season 1 of PolyLive, PolyMain Tribe Duels, Tiny Tourney Two, Diplo Derby, and many others. I am admin in the PolyMain and PolyChamps servers, as well as some other smaller discord servers. I have probably also written more Polytopia fanfic than anyone else. I am also very involved in the Ai-Mo tribe. I used to be a Tribe Leader for Ai-Mo, before the system ended in PolyMain. I am the owner of the Ai-Moya server, the editor-in-chief of the Ai-Mo Times, and ran Polytopia themed D&D games on the Ai-Mo server for over a year.
Obfuscation: Yeah, as far as I'm aware, you are the most involved and connected person in the Polytopia online community. You wear so many hats, Dr. Seuss could write a book about them! What about this game and the community around it pulled you in so completely, and how do you stay motivated to get it all done? (edited)
Espark: The thing is, I'm like this with everything, not just Polytopia. If I do something, I go all in and commit to doing it as best I can. I'm one of those annoying overachievers. My coworkers call me Hermione. When I train for an open ocean swimming race, I do to the best of my abilities. I practice with a group of swim buddies and meet up at the beach each weekend to train. I swim for hours at the gym. I show up early to the race and always finish. (I even did a 2 mile open ocean swim when I was 6 months pregnant). I never do anything half-assed. The only person I know who is more responsible and reliable than me is my dad.

So it's not actually anything about Polytopia that makes me committed, it is more about who I am and how I approach any project.
Obfuscation: Is there anything in particular that made you choose Polytopia as something to go all-in on?
Espark: I started in Polytopia as a typical fan - playing a lot of games, making art, writing fanfic stories. I have done that for lots of other fandoms, like Horizon and Fallout. My increasing involvement in Polytopia is from me saying "Yes" when people ask for help. For example, the Ai-Mo Times was started by a couple of Ai-Mo fans - 1Chill and Druid. They asked for help and I stepped up. When they left the project, I kept it going. Same thing happened in the Polympics. AnarchoRex and some others started the project, asked me to help, then they went inactive. Same story for how became the leader of Bombers. The only time I voluntarily sought out a position in the Polytopia community was asking to be a mod in PolyMain in early 2022 after I was passed up for promotion. It is less that I choose Polytopia projects as that people recognize that I am reliable and organized. I am also there to pick up the pieces when things fall apart.
Obfuscation: Getting back to Polytopia, most people here know you as one of the public faces of the mod team here on PolyChampions. Which is the mod duty you dread having to do the most, and which brings you the most job satisfaction/pride?
Espark: The thing I dread as a mod is punishing trolls. Nine times out of ten, when I DM someone saying they are in trouble because they broke server rules, I get a nasty response. I have gotten death threats, people saying I should have my children taken away from me, saying I need to resign from being a mod, saying I play favorites, saying I am a pedophile, etc. I get so much hate just for doing what a mod is supposed to do. I know I should just shrug it off, but I can't help it. Those retaliatory attacks hurt.

The thing I enjoy the most is running tournaments. I love crafting the rules, coming up with matches, making the graphics, and watching the competition unfold. It's similar to the satisfaction I get from running a D&D campaign
Obfuscation: Well, that love shows! I, for one, am a big fan of your events and graphics. I'm saddened but not surprised to hear the level of abuse you've had to deal with as a mod, and I want to give you my thanks and appreciation (and extend that to the rest of the league staff) for keeping this great server running despite the challenges and not always positive feedback.
Speaking of which, the mods came under some pretty heavy criticism in your recent server satisfaction survey. Do you think any of that criticism is fair? What do you and the mods need to do to turn public opinion around? Is that something the mod team is working on, or have you all just accepted that making the hard decisions means upsetting at least some people every time a decision needs to be made?
Espark: The biggest complaints I've heard about mods are things we cannot change. For example, mods are slow, mods are biased, mods are inconsistent. Yes. Those are all fair criticisms, but also those things are part of being human.

Here's a specific example. One person told mods that we should have "surveillance of at least half of the mods of every single channel at least every hour to check for any suspicious behavior or breaking of [rules]." Those expectations are unrealistic.

Mods are volunteers with real lives. We all have biases. We make mistakes. We are humans with feelings, not dispassionate robots. Just look at how many mods quit after only a few months because of the abuse/pressure they get.

However, I DO think mods can do more to improve community relations. I hear that mods are out of touch and should represent more backgrounds, experiences, and beliefs.

Also, I want to encourage constructive criticism. I want to hear if I mess up so I can fix it. If someone has a complaint about me or the mod team, I try to listen and improve if possible.

Personally, I want to get more mods on the PolyChamps staff. This will help get a more diverse range of views and backgrounds on the mod team. Getting more mods will also help lighten the workload and hopefully reduce burnout. To that aim, PolyChamps added nine new helpers in the last month, more than doubling the number of staff. I would love to promote a few of them to mod in a couple months, assuming they are active, helpful, fair, and communicate well.
Obfuscation: So you're an admin and/or mod for the main Polytopia server, PolyChampions, the podcast server, your team server, and a member of nearly every Polytopia related server I'm aware of... do you have any other favorite Polytopia servers that people might not have heard about that you'd recommend?
Espark: PolyMain, PolyChamps, and ArcticWolves are the servers I am most active in. I also like the Ladder League, Battle of Polytics (an RP server), and the Ai-Moya server. There's another server I am owner of, but it is private and only for certain people I trust. I visit some other discord servers from time to time but don't say much or get involved. My Polytopia bandwidth is maxed out. You know? Obfuscation: Oh I definitely do, and I have less on my plate!
Getting back to PC for a moment, if there was one thing you could change about the league, what would it be?
Espark: There are two main things I want to change in PolyChamps.

First, my short term goal is to get more mods. Current staff (including me) have our Polytopia bandwidth maxed out. As a fictional version of George Washington famously said, "I cannot be everywhere at once people!" I feel like that most days. Also, staff (helpers, mods, and veterans) and leaders need to be held to a higher standard than other league members and face more serious consequences for poor behavior. Those folks need to be good role models for the community.

Second and more of a long term goal, I want to make sure the Polytopia community is a safe and welcoming space for everyone. Although things have been improving in the Polytopia Discord space since I joined in 2019, I still see casual sexism and other kinds of prejudice in PolyChamps. I have heard players being called ladies as an insult in Polytopia VC, implying that they "play like a girl" and are weak. This type of casual sexism can be as seemingly harmless as people assuming everyone in the chat is a boy/man to jokes about women not existing on the internet. There are worse posts too and outright offensive slurs.

Personally, I wish there were more girls who played Polytopia. According to the pronoun roles people chose, about 85% of Polytopia Discord users identify as boys/men (1648/2055 in PolyChamps and 5575/6535 in PolyMain). This is similar to what I've seen in the Facebook league where less than 10% openly identify as girls/women. It's not like boys are the only ones who play video games. Polytopia is a cute, fun, mobile strategy game. It would be great to expand the player base. To that end, I want to help the community be welcoming and tolerant.
Obfuscation: Yeah to your last point, running numbers for my team shows a similar ~15% ratio. We could and should do more to be welcoming to women. The ones we do have, such as yourself, have already more than proven the value women can bring to the server and community.
Is there anything else you want PolyChamps folks to know about you or AW?
Espark: First, people should feel free to ping or DM me if they need help or have time sensitive questions. However, I don't like pointless pings or DMs just to chat. To me, DMs are for private, urgent, or otherwise important communication.

Also, I encourage people in the PolyChampions community to be proactive about getting things done and improving the league. I hear so many people sharing ideas that they think will help the league or just flat out complaining. Yes, constructive criticism is helpful and if a league member sees something that needs to be fixed, they should absolutely speak up. However, it takes actual work to get stuff done. Sometimes, league members pop up with what they think is a brilliant idea to improve the league or the server. Perhaps these ideas are genuinely great. More often the suggestions are not well thought out. Regardless of the merit of the ideas, most people assume someone else (like me) should take their rough ideas and translate it into a fully formed plan, then implement it. Enough dreaming of how things could be better in PolyChamps. Get up off your butt and help make it real.
Obfuscation: You heard it here folks, be the change you want to see in the server!
Thank you Espark for taking the time to answer all of my questions. It's been fun to be on both sides of the interview with you!
Espark: Yes, and thanks so much for interviewing me. It has been a pleasure.
You can read the full interview originally published April 12th in the PolyChampions server
Credits
A big thanks to Artemis for setting up and maintaining the website for the newspaper. Thanks to Robin Hoodrick, Artis and Espark for contributing articles.
If you want to submit a piece to the newspaper—art, news article, opinion piece, puzzle, etc.—let us know in #article-suggestions.
Keep up, Ai-Mo!